Steven J. "Sal" Staruk, Sr.
December 7, 2004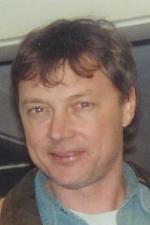 WORCESTER - Steven J. Staruk, Sr., affectionately known by most as "Sal", 42, of Worcester, passed away suddenly on Tuesday December 7 at UMASS Memorial Medical Center, University Campus, after a long and courageous battle with spinal cord cancer.

He was born in Worcester, son of Mary (Astukewicz) Staruk and the late Harry J. Staruk, Sr He leaves his wife and best friend of more than 25 years, Darlene M. (Sargentelli) Staruk, a daughter, Cassena M. and a son, Steven J. Jr., both at home, one sister, Janet M. Lee of Sutton; seven brothers, Harry Jr, James E., Mark J., Philip L., Peter L., Scott J., all of Worcester; and Paul J. of Boynton Beach, FL. Steven also leaves many nieces and nephews who adored him, including his godchildren Andrew and Jacqueline; his sisters-in-law and brothers-in-law, aunts, uncles, cousins and his extended family, the Sargentelli's of Worcester. There are also many friends whose lives were touched by Sal's sense of humor, warmth and generosity; and these characteristics are the legacy he leaves us all.

Sal grew up in Worcester and graduated from Burncoat Senior High School in 1980. He worked for many years for Staruk Builders, Inc., before starting his own contracting business, Steven J. Staruk Home Improvements which he ran until his illness. Steven loved the outdoors and sports, participating in numerous men's softball leagues, bowling in the King Pin League on Thursday nights in Auburn, horseshoes, volleyball, trampoline, boating, waterskiing, snowmobiling, fishing and hunting. Steven could actually have been seen hunting in the woods just last week with some of his dearest companions. His greatest love, however, was spending time with his children.

Steven's funeral was held on Saturday December 11 from HENRY - DIRSA FUNERAL HOME, 33 Ward Street, Worcester, MA, with a Mass at 10 a.m. in St. Catherine of Sweden Church, 1 Wiser Ave. Interment followed in All Faiths Cemetery. Calling hours were held in the funeral home on Friday December 10 from 5 to 8 p.m. In lieu of flowers, the family respectfully requested that contributions be made to the Steven J. Staruk Memorial Fund, c/o Webster Five Cent Savings Bank, 400 Southbridge Street, Auburn, MA 01501.